Posts Tagged 'celebrating Holidays with children'
Moving from one side of the US to the other side was an awesome adventure/road trip. Although I did not experience too many Clark Griswold moments, it wasn't for a lack of trying on my part. This is a big ole Country and when you start off your trip West by going South and East, one is bound to run into their fair share of situations. However, with the help of my trusty GPS and an ice chest full of Coke Zero, I survived and somehow made it to Boise, Idaho. Just in time for more rain than they have ever had in the month of May. So I got that going for me.
Now, I find myself moving into my apartment. Do not ever fool yourself into believing that downsizing is an easy thing to do. Going from 3000 square feet to 1000 aint easy, mostly due to the lack of space to "put/hide" stuff until you get around to doing what ever it was you planned on doing with it. Too bad my complex does not have a real garage where I can stash all the extra boxes of stuff. Looks like I will be renting some storage after all.
There has been one awesome highlight of unpacking, and thanks to this highlight the process is taking 3 or 4 times as long as it should. I am talking about the pictures and photo albums I brought with me. I have been enjoying 23 years of memories. The best part is the pictures are in no particular order. I will open a box and carefully wrapped will be Ziplocs of pictures from the late 90's, another will have baby pictures, goofy pictures, teenage pictures, every year (up until 3 years ago when I switched from film to digital) of my kid's lives are right there in front of me. I am re-living the "good" parts of our lives, after all most of us don't pull the camera out to capture sad we use it to capture good.
I know somehow someway I will figure out how to preserve these memories for myself and my kids. Those simple pictures have given me the greatest joy. My decision to be a Dad first has been validated. I would not trade a moment captured in the pictures for any amount of money or job title. The laughter and tears I have enjoyed the past couple of days are truly priceless.
I encourage all of you Parents reading my blog to take some time this weekend and capture your joy of being a Parent. Nothing in this world is more important than the relationship between a Child and Parent. Do yourself a huge favor and create your memories of these awesome times. Now go do what you have to do to…
Make it a Super Day,
Kevin
If you're new here, you may want to subscribe to my RSS feed. Thanks for visiting!
The Second Sunday in May is and always will be designated as Mother's Day. As a divorced single dad what exactly does "Mother's Day" mean to you?  Did your responsibility end when you separated or finalized your divorce? Do you get a green light to plan to be "away" that weekend? Do you just write it off as another made up Hallmark holiday? Do you deserve a gift because you are technically both Mom and Dad when your kids stay with you?  Have you even given the Mother's Day dilemma any thought?
My guess is that the majority of single dads can answer the questions above with 2 words, "Nothing" and "No". My feeling is the majority of y'all need who think this way need to definitely get your own Mom's some amazing gifts because you obviously haven't grown up. It is time for you to stop being a hurt little boy who is not gonna acknowledge that nasty woman who you once were married to because she was mean to you. Y'all need to realize that it was you who put the seeds of celebrating Mother's Day into play to begin with.
I have had 16 years to think about and struggle with "Mother's Day". The number of times I have just wanted to crawl under a rock and pretend it didn't exist are too numerous to count. However, I realized that the day and the celebration of being a Mother, wasn't going to go away no matter how much I wanted it to. Also, it wasn't going to go away even though the celebration of Father's Day wasn't anything like what you insured happened on Mother's Day.
I believe that single dads need to look at Mother's day as an opportunity to honor their own Mom(s) as well as the Mom(s) of your children. The day has nothing to do with you and everything to do with her. It is what it is and will never change. The rules are different because Moms are involved. The weather is different in many locations (snow in the forecast this year on Mother's Day in Buffalo) so picnics and bar-b-que may not be an option. It is a Day to honor Moms. So get off your lazy butt and make sure your kids honor their Mom. Note to Women reading my blog, Dad's have feelings too so stop your selfish ways and help your kids honor their dads on Father's Day.
So what to do? Volunteer to take the kids to any and all ball games that are stupidly scheduled for that day. Ask your kid's mom if she wants to wake up with the kids or have them come over later in the day. Find a florist that you can establish a house account with and use them. Truth time, my Mother made me do this on one of her visits to Buffalo..thank you Mom this is definitely one of the greatest pearls you ever shared. I use Graser's Florist and they can send flowers anywhere flowers can be sent. Make a trip to the Dollar Store the weekend before and buy your kid's mom a card, while you are at it go ahead and buy cards for any of the "Moms" who help you out (Team Moms, car pool friends, neighbors whose house your kids play at, etc). Stop basing your "gift" on the "gift" you got last Father's Day, it will never be equal, get over it. Sit you kids down and watch them sign the card for their Mom, address it, put a stamp on it and mail it. Make sure your kids call their mom if they are away at college or camp or anywhere else.
Celebrate the day the way it should be celebrated. After all even NASCAR takes that weekend off. Now go do what you need to do to…
Make it a super Mother's Day,
Kevin
The Birthday Bagel
I must admit. When I first became a Single Dad, I was still honing my culinary skills. I had become somewhat proficient at grilling steak and hot dogs, could zap a baked potato, and mastered adding butter, salt, pepper to frozen veggies, BUT baking a cake or cupcakes..well that was beyond my ability to concentrate. With my youngest's birthday approaching I needed to figure something out like yesterday.
While wandering the isles of the grocery store trying to figure out if I added fudge brownies to yellow cake and chocolate cake would that make it a 3 layer cake, I happened to see the most beautiful culinary site ever. Yes an almost perfectly round Bagel. This thing was awesome about 5 inches across, with a squished together center, and about an inch high. I knew immediately that if I added a singing candle my cake worries were over. Thus began the Birthday Bagel tradition. I must admit we have substituted English Muffins, Croissants, 6 or 7 pieces of bread pressed together with crusts cut off, and even jelly filled donut when Dad forgot the bagel. However, the tradition became one we shared over and over. On one's birthday morning, they come down the stairs at Dad's house to find their card, present and birthday bagel.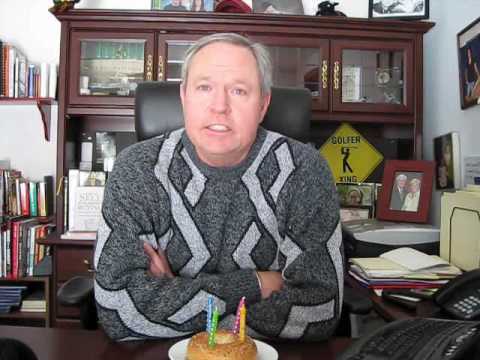 I encourage each of you to establish your own Single Dad traditions. They don't have to be elaborate or super expensive. They just have to be y'alls tradition. Now go do what you have to do to…
Make it a super day,
Kevin
For a "made-up" Hallmark Holiday, good ole Valentine's Day sure gets a lot of press. Everywhere you turn there is a constant reminder that the 14th of February is the Day for Love. Flower, chocolate, jewelry, slinky undies, and even "Honey Do" projects from the big box home improvement store, are right there in front of you. On the TV, on the radio, in your in-box, in SI's swimsuit edition, magazines, newspapers, every place you look, there the ads are. It doesn't seem as if St Valentine gives a rat's ass that you are a Divorced Single Dad. Nope Valentine's Day is the Politically correct Holiday so turn the marketers loose.
As a Single Dad what are your choices? You can be selfish and treat the day as an excuse to have your Ex be with your kids. You can be romantic and include your "date" in your normal Dad duties. You can hole up and drink beer and feel sorry for yourself. You can act tough and pretend the "Day" doesn't bother you. You can treat it as just another day. You can ignore the day. You can realize that divorce ruined a perfectly good excuse to get yourself some.
If you are like me you will probably bunch together a bunch of the above ideas, have yourself one hell of a pity party, and spend the day with fellow single friends laughing at all the "cute" couples, while drinking lots of beverages. The "Pretend" it doesn't bother you technique. Time to be honest it does bother you and it sucks that it does.
Here is an idea. Start this as close to your 1st "alone" Valentine's Day as possible. Have a huge party for you and your kids. Plan the menu. Shop together. Decorate the house. Encourage them to invite a friend or two to your "Cool as the Other Side of the Pillow" Valentine's Day Celebration. Make this y'alls day to share with each other and friends. As the years go by encourage "friends of the opposite sex" to be included. This way you can get away with your new girlfriend being there. Make it a fun time. Make it all about Love. "A Father's Love for His Children".
Turn a sad occasion, a crammed down your throat occasion, into an awesome opportunity to spend quality time with your children and their friends. Make Valentine's in your house "The Place To Be". Plus it will set you up to trade "nights" with your Ex. You get Super Bowl and Valentine's Day, she gets Fat Tuesday and St Patty's Day. Let's see you get football and hearts with your kids and beads and green beer without them. This just might work.
Now go do what you need to do to…
Make it a super day,
Kevin
"So what do you do when the person you care about doesn't want to make changes that will benefit them?  First, we need to look at ourselves before we even begin to open our mouths.  You can not ask someone to do something that you aren't first willing to do yourself.  If I am overweight, how can I ask the person I care about to lose weight while I sit on the couch?"..this was taken from a blog entry by my friend Matt Hoover (winner of Season 2 on NBC's The Biggest Loser Reality Show).
Although Matt was talking about how you get loved ones to accept the fact that they need to lose weight, when I read his blog I was struck by how many times I told my kids to do something while showing them that I did the opposite. I want to discuss this theme in today's blog. Do what I say, not what I do.
I need you to stop what you are doing and be very critical of yourself as a parent right now. Are you guilty of telling your kids to bundle up (according to the President we are in the midst of  "Snowmageddon") and go play outside while you are sitting back in your recliner watching ESPN? Are you guilty of telling your kids to eat their veggies while they see the empty pizza boxes from the nights they were not with you? Do you tell your teenagers to "Never drink and drive" while you routinely have a beer or glass of wine with diner and then drive the Family home? Are you on your kid's back to do home work while you spend the night on FaceBook or watching TV? Do you harp on your children to do their summer reading and never once read a book in front of them? How about critiquing their "effort/hustle" in sports while waddling around with your "Parent 35" hanging over your belt?
Many things we expect and require our children to do are things we don't do ourselves. Do you make your bed every day? Do you pick your clothes up off the floor every day? Do you rinse and put away the dishes when your kids are not with you? Do you shine your shoes and dress appropriate every day? Do you exercise and keep your weight at a healthy level? Do you drink and drive? Do you have a beverage to relax as soon as you get home from work? Do you end up tipsy by the time a celebration (birthday, holiday, Saturday) is over? Do you wear your seatbelt all the time? Do you smoke or think you "hide" your smoking from your kids? Do you talk about and/or gossip about neighbors and friends? Do you attend Church on a regular basis? Do you treat your Ex with respect and act friendly when ever you are around her? Do you show up on time for games and events?
Most of what a child learns is through watching and trying to do the same as their Parents. Think back to you lathering up and shaving with your Dad. Remember smoking candy cigarettes? How about playing house and Dad drinking coke in place of Budweiser? Don't even get me started with dress up or "50's" dances at school (time to feel OLD the kids are now having 80's dances). Our children are little sponges and they absorb everything we do. The actions you routinely do are what your children will definitely do. You have a 50/50 chance that they will do anything you "say".
Time to take a look at the model behavior you are setting for your children. Make changes where you need to. Enjoy being active with your kids. Learning and communicating with your kids. Enjoy being the Father you always wanted to emulate. Today is the day you can make this happen in your life. Just get off your butt and do it.
Now go do what you have to do to…
Make it a super day,
Kevin